So, you've decided to build a new home on your own land. Congratulations!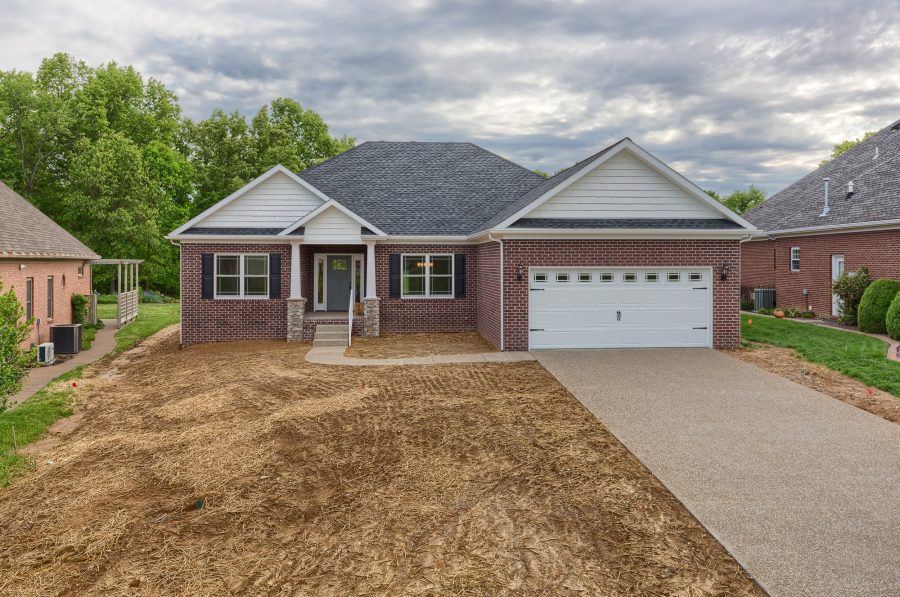 What happens now? You get to take advantage of Thompson Homes' years of homebuilding experience!
When you're beginning your new home journey, only one thing is more important than the home you're building: the location. While we have new home communities in several convenient and desirable locations throughout the Tri-State areas of western Kentucky & southern Indiana, we can also build on your lot almost anywhere in Daviess, and Hancock Counties in KY; and Warrick, Vanderburgh, and Posey Counties in IN.
Build On Your Lot is an exciting alternative to one of our many beautiful communities. You have the option of building one of our high quality homes on a lot that you may already own or plan on acquiring, while enjoying all the benefits of a Thompson home – superior quality, incredible customer service and unparalleled value – virtually anywhere in the Tri-State area.
---
What does "build on your lot" entail?
We can help you find a home site outside of one of our communities so that your perfect home is in an equally perfect location for you. Already own land or have a site in mind? We can survey the location to help you determine the best custom home designs and placement for the land.
Our Build On Your Lot program allows you to personalize floor plans and customize elevations to fit your land and your lifestyle. Our construction and design professionals are experts at translating your thoughts and ideas into the perfect Thompson home.
Here are the steps you and Thompson Homes will take in the construction of your new home:
OYL Consultation Appointment & Pricing Scenario
Confirm Homesite Location
Obtain Construction Permanent Pre-Loan Approval
Complete Homesite Evaluation
Write Home Contract
Personalization Day & Custom Pricing
Complete Mortgage & Loan Paperwork
Customer Release Meeting
Building Permit Received
Construction Begins
Weekly Progress Reports Begin
Pre-Drywall Orientation
Utilities Connected
Construction Complete
Quality Inspection
Homeowner Orientation Demo
Confirmation Meeting
Closing and Presentation of Keys
Time To Move In & Enjoy Your New Home
60-Day Warranty Check-Up
60-Day Survey
11-Month Warranty Check-Up
12-Month Survey
---
Glossary of FAQs
How Do We Get Stated:
Call us today at 270-926-1740 or fill out the REQUEST MORE INFORMATION form above. We will schedule your first Build On Your Lot Free Consultation meeting with one of our New Home Consultants.  If you do not own the land yet, we recommend meeting with us before you buy your land so that we can best assist you.  We look forward to hearing from you today
Where will we build:
We will gladly build on your lot that is located in one of the following KY or IN. Counties: Daviess, Hancock, Warrick, Vanderburgh, or Posey County.
What home designs does Thompson Homes offer:
We have more than 20 home designs to choose from ranging from 1,300 to 3,000 finished square feet and starting from the low $150,000s – upper $300,000s.  We offer many different home styles such as ranch style single story, 1st floor master and traditional 2 story homes. Each home can be built on a slab, crawl space or basement.  We also offer different plans to fit different homesite sizes starting at 30' wide homes and going up to over 60' wide.
Can I make changes to one of the home designs?
There are many structural changes available to choose from depending on which floorplan you choose.  If you are looking for something unique that is different from any of the plans you see on our website, please reach out to us.  We allow a variety of personalization to any of our plans.  We will set up a meeting with one of our New Home Consultants to review all of the choices.
We also have a state-of-the-art Design Center where you will work with one of our Design Coordinators, who will assist you in selecting everything from the exterior siding colors and designs to the interior choices including floor coverings, cabinets, countertops, faucets, light fixtures and everything in-between.
Can you build homes with basements?
Yes
What do the prices include?
There are two included feature packages to choose from. The starting price for each floorplan comes included with either the Heritage Features Package, or the Legacy Features Package. Contact us today for a price sheet.
What are the excluded items?
The excluded items include any tree clearing, engineering fees or surveys of which the land may require, utilities, permits, town/county fees, inspections, unique code requirements, and anything outside of the footprint of your home (driveway, landscaping, land clearing, etc).  We will review this list in much detail at your first Build On Your Lot Free Consultation.
I have my own homesite. How do I find out if the land is buildable, and if the model/floorplan I choose will fit?
Thompson Homes provides a On Your Own Lot Site Evaluation & Inspection for all of our customers.  We do this during a due diligence contingency period.  To get started, we ask that you put down a fully refundable $1,500 deposit.  During this contingency period, we will go out to your homesite to perform a homesite inspection, identifying which of the excluded items will be necessary to address in order to build your new home. We will also talk to the local municipalities and zoning offices to find out what permits and tests they require to build.  A soil test, and/or a topography grading plot plan may also be recommended to be performed at this time.
I don't own any land yet, but am interested in finding land to build on. How do I go about finding my own lot/land to build on?
If you do not own a homesite yet, no problem! We have relationships with many land owners and can assist you in your search. If none of these homesites fit your needs, we can help you by providing you with names of several real estate professionals that specialize in land acquisition.
How do I get a mortgage to buy a home?
The three most popular financing options are: construction loan, construction loan to permanent mortgage, cash purchases, or conventional. We will build your home based on a draw schedule that will be determined prior to the start of construction. If you are getting a construction loan of any kind, closing on the loan happens BEFORE the home is built and can be used to help you purchase the land. As little as 5% is needed as your down payment based on your qualification parameters and credit score
How will I know what the total cost will be when finished?
We will provide you with a Total Investment Summary for the floorplan chosen along with an itemization for all luxury features that you wish to have in your new home. As soon as you put down the initial deposit, and authorize the Purchase Agreement, we will schedule your 1st Design Center Appointment w/one of our Design Coordinators.  This is a 2 hour long meeting at which time we will work you to finalize all of your new home selections and price.  Our goal is to work within your budget and build the home of your dreams!
---
Traditional neighborhoods are not for everyone. Have questions? Chat with us!
Talk with a Thompson Homes team member about building on your lot. We can't wait to build your dream home. Or register below to receive more information or schedule an appointment to start your homesite inspection.