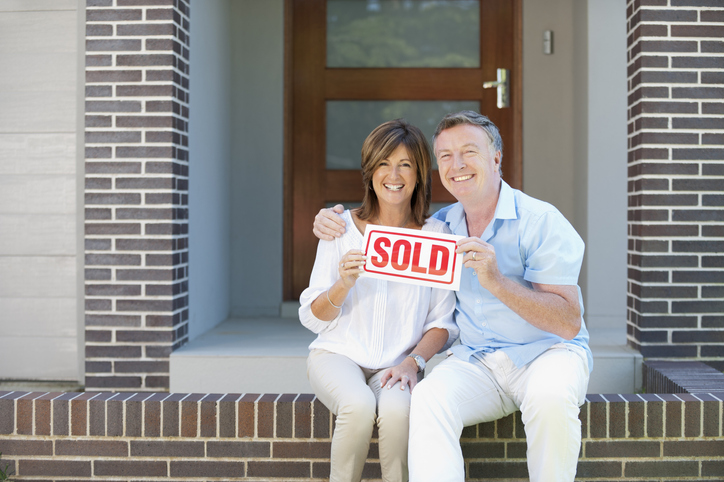 How to Stage Your Existing Home to Sell
Moving into a brand new Thompson home that's built just for you is one of the most exciting times of your life. But before you can begin this one-of-a-kind journey, you have one final to-do on your list: sell your old home. This is where staging can make a big difference.
Effective staging isn't just for show – it's the art of preparing and styling a home to be as attractive as possible to potential buyers. In fact, staging your home the right way will help you maximize its sales price and sell faster. All it takes is some planning and a bit of elbow grease, and you'll be well on your way to moving into your dream home. Take a look at a few of our favorite tips and tricks when it comes to the art of staging:
Focus on Curb Appeal
Your home has one chance to make a great first impression, so make it count! Mow and edge the lawn, plant new shrubs and annuals, and lay down fresh mulch. Make sure the outside of your home is in good shape, too. Pressure wash, repaint, and change out the mailbox and light fixtures to create a welcoming entry. Add some potted plants to the front porch and a new welcome mat, and you'll be ready for buyers.
Declutter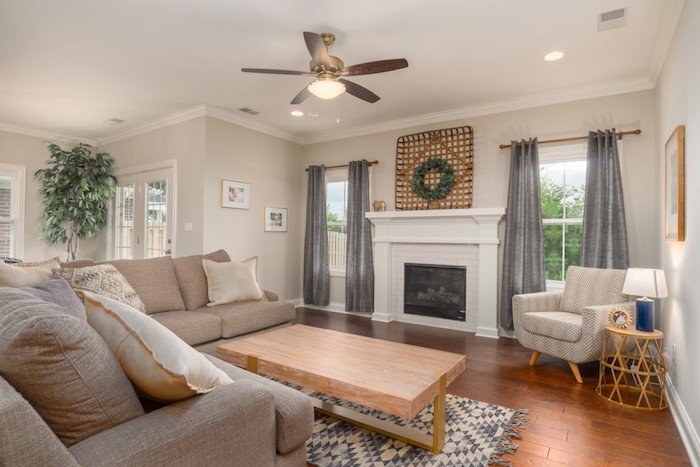 A critical part of staging a home is getting rid of "stuff." Go through every room in the house (and even the attic, garage, and shed) and clean up or throw away anything that doesn't make the space more attractive. Remember, your house is now a product on the market. Potential buyers don't want to see your personal collections and memorabilia. The goal is to make the space feel open and inviting, and ready for their personal touches.

Make Quick Fixes

The next thing to do is look for the "quick fixes" that can instantly transform a room — removing old area rugs to show off hardwood floors, taking down heavy curtains and cleaning windows to let the light in, and rearranging furniture to maximize space. Remember, even small adjustments can make a big impact. 

Decide on Furniture

When it comes to the furniture in your home, only keep what is essential to enhance a room. That means that a lot of pieces may need to be put in storage or donated. Keep your potential buyer in mind and try to follow a decorating theme they might be attracted to. Make sure any furniture you keep is clean and free of tears or stains.

Make It Picture Perfect

The majority of potential buyers see your home in photos online before they see it in person, so everything you do in your home should be about that crucial first impression. Think about touch-ups that will translate well to on-screen pictures and videos like bright flowers, folded towels in the bathroom, and bowls of fruit in the kitchen. And remember, buyers zoom in!

Depersonalize

Buyers want to look at your old home and envision making it their own, so make sure to "depersonalize" it. Remove any family pictures, personal art, or books that reflect specific viewpoints. Hide away personal effects like laundry and toothbrushes, and paint walls with neutral grays or whites to make your home look like an open canvas that's ready to be personalized.

Hide Your Pets (and Their Things)

It's hard to believe, but not everyone can live with a dog or cat. Some may have severe allergies, or they just may not have a lifestyle conducive to taking care of a pet. In order to attract the widest segment of buyers possible, you'll need to erase all signs of your pets. That means eliminating pet odors by frequently mopping, vacuuming, and washing their bedding, and adding air fresheners to the areas where they like to laze. When you have a showing appointment, take your pet – and all of their toys, blankets, beds, and treats – with you when you leave the home.

Clean, Clean, Clean

Above all else, your home must be spotless. Every corner, every cabinet – even the top of the fridge and fans – should be clean and free of dust. A clean home appears well maintained and causes prospective buyers to think they have less to do when they move in. Remember – it's not enough to just clean once and be done; do a quick spot clean before every showing to keep your home looking, smelling, and feeling fresh and inviting.

When you understand where the eye goes first, and what's attractive to buyers, you can make the best adjustments to not only impress home shoppers, but win them over. The faster you sell your existing home, the faster you can move into your gorgeous new home that's been built and designed just for you.

For more information about Thompson Homes' new communities throughout Evansville, Newburgh, and Owensboro, KY, please schedule an appointment or contact us at 812-972-8918.

Tags: homes for sale owensboro ky, new homes owensboro ky