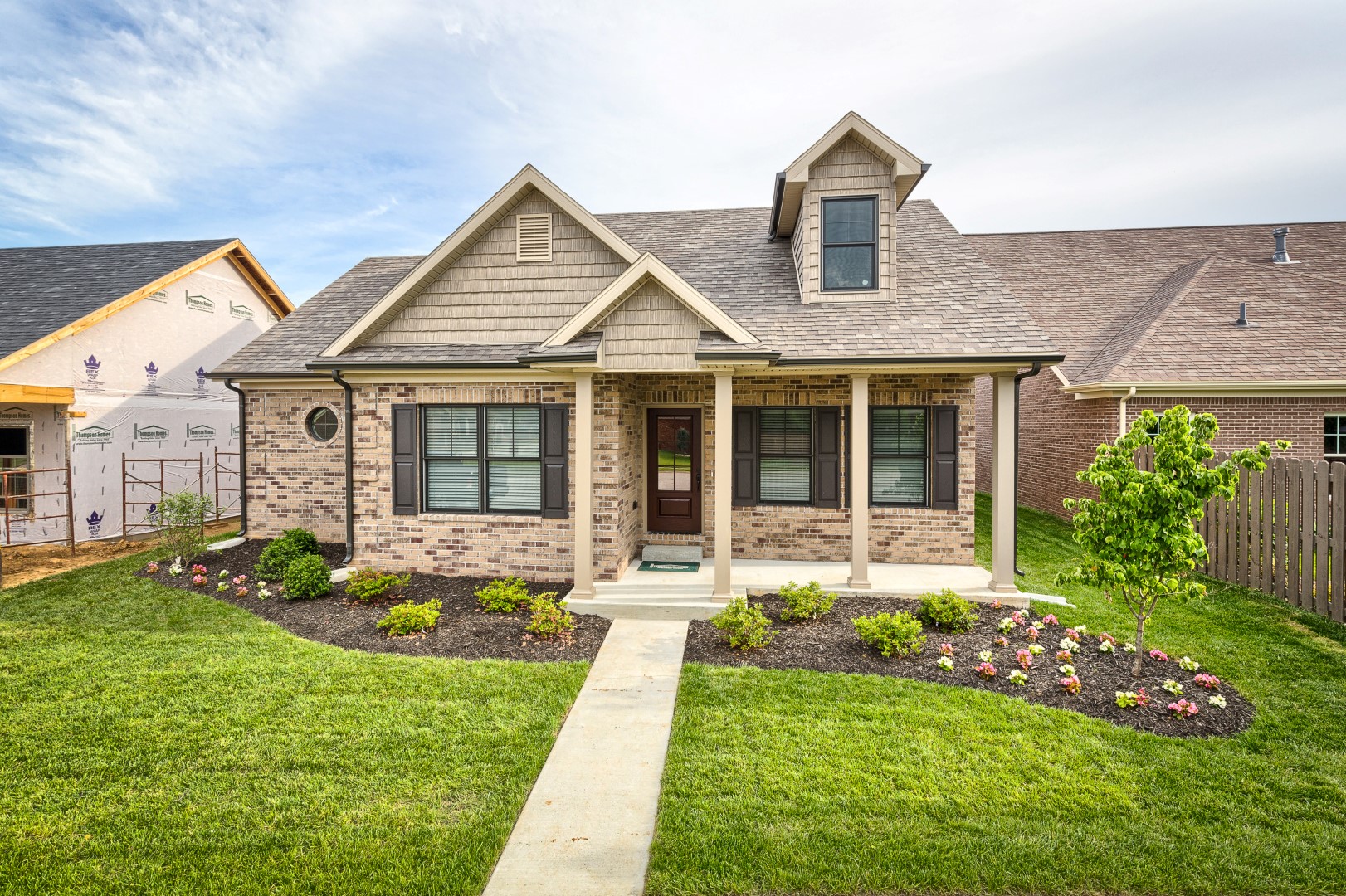 The Housing Market: What You Need to Know
Unprecedented demand for new homes is impacting everything from materials to build times, but it won't last forever
Since 1948, when brothers Bill and Jim Thompson built their first home in the Shawnee park neighborhood, Thompson Homes has stood for a core set of values that reflects what is truly important to us – uncompromising quality, integrity, and a level of customer service that goes far beyond the sell. Especially in today's challenging housing market, these values guide us in every decision we make, and in every interaction with our home buyers.
We value your trust in us. That's why we wanted to share exactly what's happening in the housing market today, what that means for building, and when there may be some relief – so that we can move forward with building your dream home together!
Supply and Demand
Over the last 14 months, the housing industry has been dramatically impacted by pandemic-related events. While housing has been a bright spot in the nation's economy, we are now facing unique challenges that are driving up materials costs and extending building timelines.
The dynamic at the base of all the current challenges is a textbook case of supply and demand. There is an incredible demand for new homes right now, and not enough supply of materials to build them. This has led to increased costs and extended build times.
The rising cost of lumber has been the most news-worthy event in the housing industry. About 80% of the lumber used in U.S. home construction is imported from Canada. Many lumber mills, both in Canada and the U.S., were forced to shut down in 2020 due to health concerns.
At the same time, an unprecedented combination of factors – including record low interest rates, newly remote employees and virtually-schooled children needing more space, and the general desire for people to change their living situations during the pandemic – led to a surge in demand for new housing and home renovations, all of which require lumber and building materials.
High demand and low supply drove costs up exponentially. Lumber prices have risen 240% from a year ago and continue to climb. Today, there simply isn't enough lumber to meet demand, or the cost is prohibitive for builders, and timelines for new homes are being pushed out longer than usual.
Another critical building component to face severe shortage is resin. This plastic is used in materials throughout the home construction process – including as a bond to strengthen wood and flooring materials, and in paints, coatings, primers, and sealers. Much of the U.S. production of resin comes from Dallas, which was severely impacted by the 2020 winter storm. As a result, production slowed or stalled while demand continued to rise, resulting in price increases and building delays for homebuilders in the majority of markets across the country.
Another material that's in critically short supply in the Kentucky market is vinyl siding. Windows are also delayed due to the shortage of insulated glass. These are only a few examples. Product delays and suspensions are affecting everything from concrete, cabinets, and appliances to paint, sheetrock, and lumber. Nearly every line item in a home's budget is under some type of delay or substitution.
The Impact on New Homes and Homebuyers
The biggest impact has been cost. The cost to build a new home has increased substantially because materials are scarce and more expensive. The National Association of Home Builders (NAHB) has estimated that, based on a $350,000 home, the cost has increased by $24,000 based on lumber alone. That number shifts depending on the size of the home.
Builders must substitute products and finishes. In order to keep a new construction home on schedule, on-the-spot decisions must be made when builders are notified that a product is no longer available. Builders are doing their best to inform buyers of changes as soon as possible, but due to the increasing unpredictability in supply chains, they may not be able to guarantee products by name or provide specific colors of product. In some cases, they will not be able to provide the product at all.
Build timelines are longer. Builders are doing everything they can to stay on schedule for builds that have already started. However, product substitutions with little or no notice can cause significant changes to the building process for future homes and lead times can become unpredictable.
Some green building certifications may not be available. As some program-mandated products become unavailable, it may be difficult to obtain ecoSelect, Energy Star or National Green Building Standard certifications. This is not due to the quality or performance of the home – builders may just need to use different products than those specified by these particular programs.
Builders are making hard decisions and finding solutions. Rather than face the uncertainty of supply costs and product availability, some builders are pausing sales until they can provide buyers with a definite cost and/or build time. Many builders have turned to wait lists or lotteries to manage interest.
Looking Forward
NAHB is taking steps to mitigate the lumber shortage by urging Congress to work with domestic mills to increase production and end tariffs on Canadian lumber shipments into the U.S. As demand for suburban housing cools a bit and material suppliers have an opportunity to catch up, the entire housing industry should stabilize. We're confident that home building — along with its positive economic impacts like job creation and tax generation — will rebound soon.
With interest rates still near record lows, it continues to be a great time to buy or build a new home. We recommend taking these three steps so that you are prepared and ready to act when you find the one:
Understand price increases – so that you are educated on the reason your new home costs what it does, and you are prepared and comfortable with making a deposit.
Get pre-approved – so that you can act fast when the home you want becomes available.
Join interest lists – so that you are the first to be notified when communities release more lots for sale.
At Thompson Homes, our team takes great care daily to minimize the aforementioned obstacles the home building industry is facing. We will continue to problem solve to ensure our homeowners receive the quality home and first-rate customer service Thompson Homes is known for.

If you are considering making a move to Evansville and Newburgh, IN or Owensboro, KY, we recommend doing it sooner rather than later! For more information, please contact us at 812-972-8918.

Tags: homebuilder owensboro ky, homes for sale owensboro ky, new homes owensboro ky